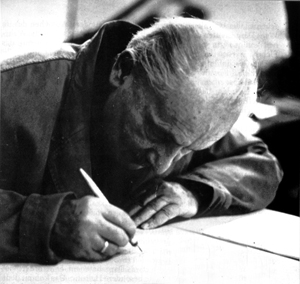 Questioning nach der Technik, after technology, questioning once technology has come on the scene, after the history of technology's coming-on-the-scene, the historical questioning of technology, questioning the historicality of technology, the history of technology after it has been surmounted, the mourning of technology. All these are connected. If this is true, someone should read Heidegger's reflections on technology together with Freud. Or rather, Heidegger's idea of history as a enowning destining of Being together with Freud's diachronic structures of the mind, like the pleasure-principle, trauma, and mourning. The destining of being would parallel the destining of the cathexis, the Besetzung. Just looking at the following quote from Heidegger's "The Turning," should suggest something of the sort is possible:

...the essence of technology cannot be led into the change of its destining without the cooperation of the essence of man. Through this cooperation, however, technology will not be overcome by men. On the contrary, the essence of technology will be surmounted in a way that restores it to its yet concealed truth. This restoring surmounting is similar to what happens when, in the human realm, one gets over grief or pain. [my italics, mj]
-"The Turning" from The Question Concerning Technology, and Other Writings.